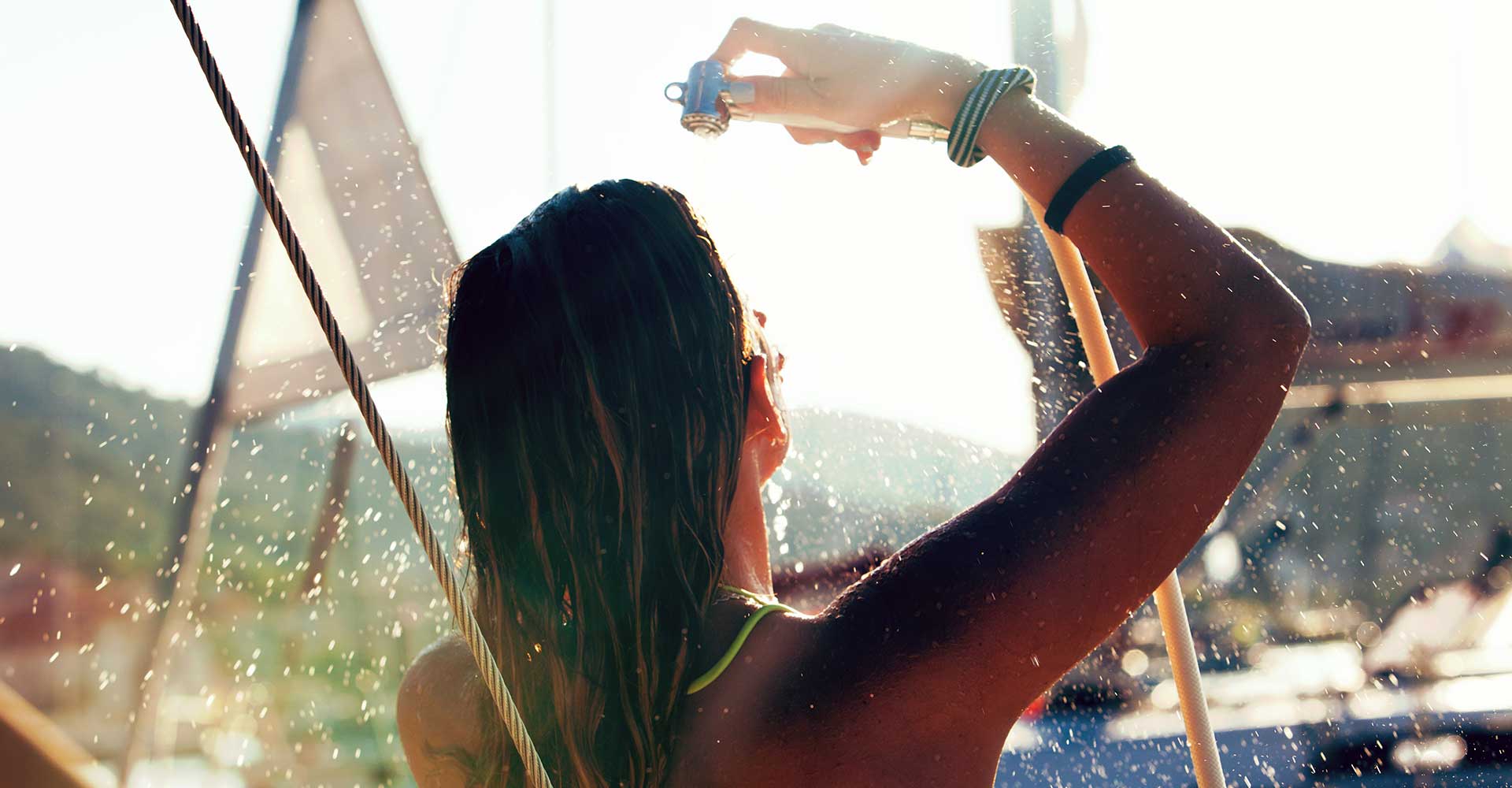 nautical
eco body line
Cosmetic products to bring on boat
Cosmetic products to bring on boat that takes care of body and sea
Living the sea, on the beach as well as aboard a boat or on a surfboard, immediately gives a sensation of physical and mental well-being. It's a question of nature, but also of chemistry. When we are in the sun and breathe in the salty air immediately we feel more toned, more energetic and stronger. The salt on the skin then offers us many benefits: it has a smoothing effect, exfoliating and invigorating, degreases the skin and regenerates it, fights inflammation, dermatitis and has excellent antifungal properties, and finally improves the appearance of scars and stretch marks. That's why after being in contact with seawater, our body looks better, healthier and more lively.
After baths in the sea, however, it is always good to rinse off with fresh water and use specific detergents that completely removes the salt. This is because the salt crystals contained in seawater amplify the effect of the sun's rays as if they were many tiny mirrors and with time overheat and dehydrate the skin, making it dry and brittle. Since we love the sea and nature and we want to preserve them, it is good to carefully choose cosmetic products to bring on the boat as absolutely natural soaps, biodegradable and non-polluting.
100% natural detergents in solid form
For this reason we from Nagua propose some cosmetic products to bring on boat such as Nautical eco body linecosmetic detergents expressly created with AIAB certified ecological formulas (company code 101732 - AIAB cosmetics certification) and FRIEND OF THE SEA that guarantees maximum care and cleansing of hair and body. Efficient products that are gentle on the hair and skin, and therefore also suitable for children. But above all, they are biodegradable and non-polluting detergents even in their plastic-free packaging, not tested on animals and made with extreme attention to their composition that includes only 100% natural ingredients and comes in a solid form that reduces waste and takes up less volume.
Less plastic at sea!!!!
Inside of the Nautical eco body line you can find some cosmetic products to bring on boat in solid form. The objective, in addition to offering formulas that are gentle to the skin and to the environment, is to reduce plastic pollution in the sea. Here are a few proposals Eco Shampoo Solid, a shampoo for marine use with an "eco-bio" formula, i.e. low foaming, and in solid shape that cleans our hair thoroughly and gently; and then there is theEco Solid Conditioner, a specific untangling conditioner always in solid shape and 100% biological, suitable for all hair types; and finally theEco Shower Bath Solid, a soap made with natural oils, nourishing to the skin and absolutely free of parabens, SLES surfactants, chemical dyes and chemical preservatives.