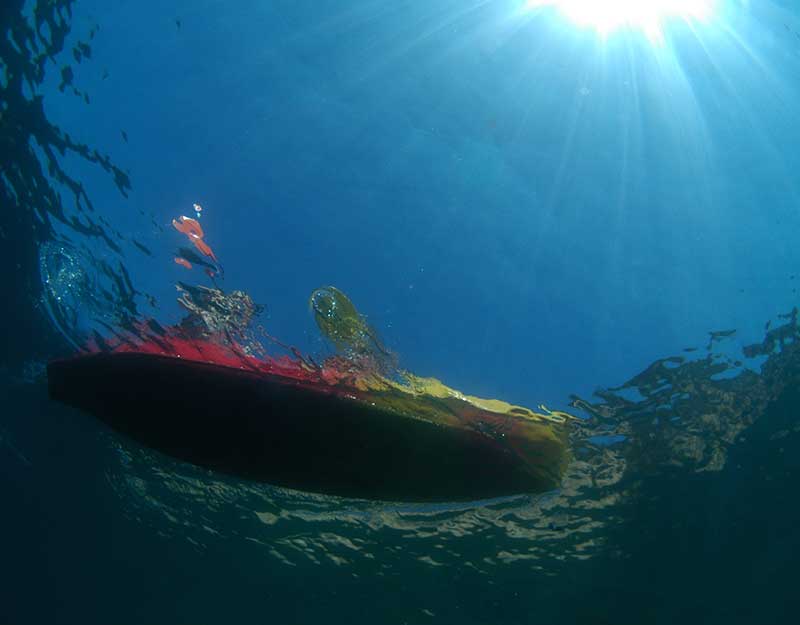 Biofouling: discover other reasons to take better care of your boat!
17/11/2021
Eco Glass & Surfaces
03/12/2021
Vyva Fabrics is an example of who supplies ecological fabrics for the practice of nautical sustainability.
Font: Francesca Webster
Founded over 30 years ago, Vyva Fabrics was created by Carol Driessen. First, Vyva Fabrics supplied high quality fabrics and artificial leather, predominantly to the yacht industry. Today, the company has grown to the top, with an estimated 80% share of the Dutch market for superyacht fabrics. In addition, it also offers products for the flooring sector, such as flexiteek and nautifloor, among other vinyls.
So, as one of the first businesswomen in the industry to recognize the importance of sustainability to the industry, Driessen began looking for alternative fabric options more than a decade ago. In 2019, the first fruits of this work were revealed with the Vyva Hemp Collection. It was a line of upholstery fabrics made from extremely strong and durable hemp fibers, dyed in a selection of soft, elegant colors. The collection has five different themes with matching textures. One of the most impressive features of the range is that all fabrics are waterproof and stain free. As such, this means that they are suitable for both indoor and outdoor furniture. And they can be left outdoors all year long without any degradation of materials.
Sustainable fabrics were just the beginning
After launching the Hemp Collection, Vyva took its first step towards more organic and sustainable solutions. But for the company, this hasn't gone far enough for true sustainability. It was then that the team began to consider truly recycled materials. As a result, they would reach a deep commitment to reducing emissions throughout the product's lifecycle. It was from here that the REVYVA Collection emerged.
Produced in Europe, the materials have a verified supply chain. They save 94% of normally used water, 64% of energy and reduce 32% of CO2 emissions. All this thanks to its innovative production process.
For Driessen, sustainability and the innovations they discovered is the future of the industry. She believes this is a direction they will continue to invest heavily. Currently, fabrics from the REVYVA Collection are available in three different color groups. There are a variety of options from yellows, pinks, blues. In addition, already other benefits of recycled material. Therefore, the color of the fabric and yarn is very consistent – which is even a problem with natural weavings.
The importance of sustainable alternatives
Increasingly, Vyva receives requests from owners and customers for sustainable alternatives to used products. Therefore, the company understands that it is a very positive response to the new line. "Our customers want to be more sustainable". For many, if a product is less than 70% recycled, they don't even want to consider it, and that shows a real development in the industry.
Vyva Fabrics showcased the new line, along with its Hemp collection and selection of floors and fabrics for yachts at METSTRADE in Amsterdam.
Font: Superyacht Times
Make a difference with eco-friendly apparel fabrics

Nature has rights, just like human beings. Therefore, we must defend these rights. Nature needs to be preserved by all of us.
Therefore, we need to choose products created by environmentally responsible companies that use sustainable fabrics. These companies adhere to environmental policies that aim to create a truly sustainable production chain. And so they contribute to the economy in the future.
Carvico and Jersey Lomellina, for example, produce beachwear fabrics using ECONYL® regenerated nylon yarn. Its main differential is to transform waste problems into fashion and interior design solutions. Called Fluff, they are coverings of Nylon rugs and carpets, fishing nets and other waste. Instead of being discarded, they are recovered, regenerated and transformed by Aquafil® into ECONYL® yarn. And then they are used to produce eco-sustainable fabrics. They are highly technical and guarantee the same performance as standard fabrics.
Why choose eco sustainable fabrics?
Choosing an eco-sustainable fabric means making an active contribution to preserving nature. After all, choosing recycled materials instead of non-renewable raw materials is effective and actively contributes to this process of recycling and ecology. These fabrics also guarantee the technicality, comfort and performance that a technical fabric cannot do without.
A garment made from an eco sustainable fabric is in fact capable of guaranteeing the same performance as a garment made from a technical virgin polyamide fabric, without compromising on aesthetics. Furthermore, there is the advantage of not having consumed non-renewable energy sources during the production cycle.
Subjected to rigorous quality tests, eco-sustainable fabrics are able to guarantee perfect fit, correct muscle compression, high breathability, resistance to drips and abrasions, excellent shape recovery, for clothes that are always perfect even after intense use.
Font: Carvico
How to wash fabrics in an eco-sustainable way?
Choose quality and ecological products. With this, you will have fabrics that last longer and, in turn, will not be polluting the marine environment.
Nagua has a line of products for washing clothes and fabrics. In addition to being ecological, they do not pose risks to your skin's health as they have natural ingredients in their composition. Meet Nagua Laundry Detergent and Softener.