Free shipping from €40.00
Shipping in 3 working days
your scent
1000ml
fragrance-free formula is the maximum expression of ecology and allows, also, the personalization of laundry with your favorite essence: "smell it your own." Dermatologically tested for hand and machine use.
Made in Italy
ECO-FRIENDLY PRODUCT

Secured Payment
CERTIFICATIONS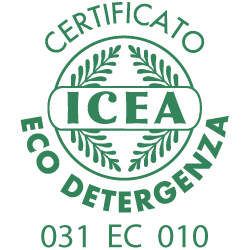 DESCRIPTION
Ecological fabric softener
Garments and linens always impeccable, fragrant and sanitized
Even in an environment as sporty and dedicated to relaxation as the boat, it is nice and satisfying to wear clothes and technical garments that are always clean, soft, and fragrant. So is having immaculate and sanitized service linen against bacteria on hand at all times. Especially for those who sail and live aboard with children in tow.
Whether you do your laundry by hand on a boat or by using a practical washing machine, the important thing is always to use detergents designed specifically for marine use. High-performance products that are also gentle on fabric fibers and, above all, have a low environmental impact.
An easy-to-use, versatile fabric softener that is also rinse-free
Nagua within its Nautical cleaning line offer Eco Fabric Softener, a dermatologically tested boat cleaner for hand and machine washing your technical clothing, everyday clothes and utility linens, including tablecloths, sheets and towels. Its use is quickly and easily. For hand washing, simply rinse the fabrics well and then let the laundry submerge in fabric softener for at least 10 minutes without needing to rinse. For machine washing, just deposit the recommended dose directly into the machine wash tub instead.
How nice to scent your own laundry to your heart's content!
Eco Boat Fabric Softener thanks to its neutral and odorless formula allows you to customize your laundry the way you want using your favorite essence made from natural aromas and essential oils. To preserve the environment it also contains no synthetic and chemical dyes. In fact, these substances often used industrially have a strong environmental impact. Being derivatives of petroleum and heavy metals, they have high aquatic toxicity, are not biodegradable and can give dermatitis and skin cancer.
INGREDIENTS-ICI
In order to know the product you are buying, transparency of the information on the label is essential. This way you can check the INCI and know what you are going to choose.
INGREDIENTS
Aqua (Water), Dioleoylethyl Hydroxyethylmonium Methosulfate*. * of vegetable origin
CHEMICAL COMPOSITION
(EC Reg. 648/2004 and subsequent amendments). Between 5% and 15%: Cationic surfactants.
100% raw materials of natural origin
USAGE
USE IN THE WASHING MACHINE: Pour the recommended dose directly into the tray provided. HAND USE: After washing, rinse fabrics thoroughly and then let the laundry soak with fabric softener for at least 10 minutes in clean water. When finished, do not rinse. RECOMMENDED DOSES: (one cap=25ml) BY HAND: 45 ml in 10 liters of water IN THE WASHING MACHINE: 45 ml per 4.5 kg of laundry
ECOLOGY
The formulas, CERTIFIED, of Nagua products were created for use in the marine environment, following the rules of the CRITICAL DILUTION VOLUME (CIV) criterion. This regulation is used to calculate the toxicity of products, to aquatic organisms and to assess their environmental impact. All Nagua products reduce, significantly, the water consumption required to render innocuous a dose of detergent released into the nature.
Why is it an eco-friendly product?
It is a product Without parabens, chemical preservatives that can cause allergic reactions on the skin and possible interference on the hormonal system.
It does not contain SLS (Sodium Lauryl Sulfate) and SLES, (Sodium Laureth Sulfate), petrochemical-derived surfactants, which are responsible for the product's high foaminess. They are aggressive to the person, the environment and toxic to aquatic organisms because they compromise the respiration of fish. This product, however, is formulated with surfactants from vegetable-derived raw materials, so as to guarantee the preservation of the environment and the protection of person's health.
Without isothiazolinones, a synthetic preservative that can cause allergic dermatitis and is dangerous to the aquatic environment.
It does not contains artificial colorants and optical brighteners, they have no functionality, but on the contrary they weigh on the environmental impact, besides the poor biodegradability they can cause irritation and allergies on the skin.
Made from exclusively vegetable-basedraw materials, they are easily and completely biodegradable and have very little impact on the environment.
Not tested on animals, we have the maximum respect for the whole system, for the person, for the nature and for the animals
Do not contain EDTA or phosphorus, Values of heavy metals such as Nickel, Chromium and Cobalt less than 0.00004 %.
Formulated with vegetal Essential Oils that characterize the natural fragrance of products substituting the synthetic fragrances of traditional detergents.
SHIPMENT
Free shipping for purchases over 40 euro.
Shipments, from our warehouse, within three working days.
Delivery time and shipping costs depend on your choice of transporter, at the time of payment.
Shipping, for the moment, in Italian territory.
Receive our news and special offers